In addition to the ones below, Jeremiah also has a 5-star rating on Glovico from 83 satisfied students (
see reviews here
).
Patrick Gruczkun, project leader visiting from Sweden (added July 2017)
I had the privilege to have Jeremiah as my Swahili teacher as I took my first steps towards mastering the language in 2017. Jeremiah is a knowledgeable and patient teacher. He has a clear and structured plan for his teaching and the ability to explain not only the "what" but also the "why" of the language. I highly recommend his services.
Neil, Medical Researcher, United Kingdom (added July 2015)
"I was doing a medical research project and wanted to learn enough to speak to patients and tell them what I was going to do. I found Jeremiah online and found him to be patient, friendly and effective teacher. In just a few short hours I went from knowing no Swahili at all to being able to have a conversation with my patients. Jeremiah is very flexible and will travel to meet his students. Highly recommended!"
Claire, a social worker working  with an NGO in Dar es Salaam (added May 2013)
"I meet Jeremiah for two hours Swahili lessons twice a week, I look forward to and enjoy the lessons, they never feel like a chore.  Jeremiah is always very organised and prepared for each lesson, he is very patient and I feel comfortable asking even the simplest of questions.  I've also really appreciated the flexibility that his lessons provide.  Jeremiah comes to where I am staying at each lesson.   He has also been really flexible with lesson times which has been brilliant because my schedule changes from week to week."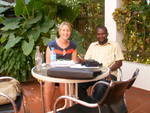 Melissa & David, professionals in Dar es Salaam (added Nov 2011)
Jeremiah is an excellent and patient language teacher.  He's the only reason my husband and I have been able to stick with Swahili since moving to Dar 9 months ago. Jeremiah creates a low stress and positive learning environment, and is completely understanding of our hectic work schedules, that leave us little time for studying outside our tutoring sessions.

Classes with Jeremiah focus heavily on conversational swahili, and after every class we find ourselves better able to communicate in everyday life. Meanwhile, Jeremiah has also introduced all of the basic (and now more advanced) grammatical structures to provide us with a strong base as we progress. I highly recommend Jeremiah as a Swahili tutor.
Anders from Norway (added Nov 2011)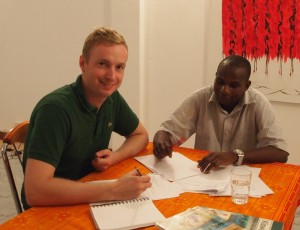 I enjoy having Jeremiah as my Swahili teacher. First of all, he's a great teacher. He explains things well, he finds interesting topics to talk about and the conversations can easily go on while learning new words and phrases. Secondly, he is very flexible when it comes to meeting times and arrangements.
Kate – a graduate student working on an environmental project in Tanzania and Kenya (added Nov 2010)
Jeremiah offered a great introduction to Swahili, and is a patient and encouraging teacher. Travels and field visits have interrupted my classes, but Jeremiah has been flexible and helped me learn bits and pieces as I go.
Ann and Kelsey, teacher and volunteer in Dar (added Nov 2010)
What a patient man! Jeremiah has been encouraging and flexible and kind in all of our lessons so far. He is teaching in a way that builds a foundation for really understanding the language, but through words and structures we can (and want to) use immediately. He cares about our success, and makes this daunting and important process seem manageable. We enjoy our time with Jeremiah, and have learned more than we expected, about Kiswahili and life in Tanzania.
Jeongsu Nam, surgeon in Dar es Salaam and student for 3 months  (added Sep 2010)
Jeremiah is not only a good Swahili teacher for me, he has also become a really good friend. After 3 months of lessons, we're talking in Swahili almost all of the time. During the lessons, we mostly talk about various topics like politics, social issues in Tanzania and environmental issues. Jeremiah's lessons also allow me to communicatie with my patients at the hospital, both professionally and socially.